World Prematurity Day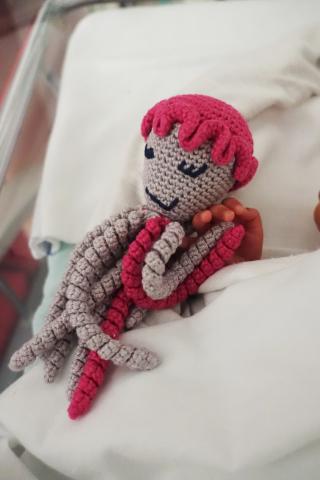 Today is World Prematurity Day.
 
The Neonatology department of the Europe Hospitals is taking part in the "Small Octopus Cocoon Sensation" project. Thanks to this project, baby's hospitalised in Neonatology receive a small octopus hooked by volunteers. This little octopus is not a cuddly toy but a tool to reassure and soothe them. The touch of the tentacles reminds them of the umbilical cord, a known sensation that brings them comfort and serenity. 
 
More info on this beautiful 100% voluntary project on https://petitepieuvresensationcocon.weebly.com/. The project fills you with satisfaction and motivates you? Don't hesitate, we need crocheting machines. You don't know how to crochet, but you still want to make your contribution? A donation of cotton wool is always welcome! Do you have any questions? Contact the project ambassador for the Cliniques de l'Europe: Taline SEYNUR (taline_seynur@hotmail.be).