Vaccination open for all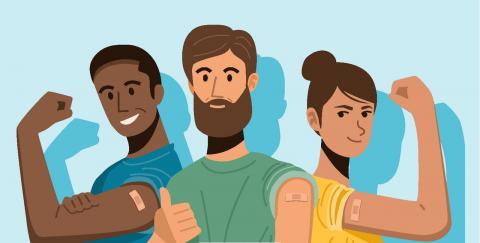 Based on extensive experience with COVID-19 vaccination among both nursing staff and patients, the Europe Hospitals responded favourably to a call from the COCOM to continue COVID-19 vaccination for those who want it. Here are the practical details: 
Any person (from 12 years old*) can reserve a slot by telephone for a first or second dose (we do not administer the third dose):
- For the Ste-Elisabeth site (Uccle), on 02-614 20 00 between 8am and 6pm from Monday to Friday. Vaccination takes place from Monday to Friday from 2pm to 3pm in a room located in the entrance hall after the wall of plants ("green wall").
- For the St-Michel site (Etterbeek), call 02-614 30 00 between 8am and 6pm Monday to Friday. Vaccinations are given from Monday to Friday from 2 to 3 pm at the geriatric day hospital. When you enter the hospital through the main entrance, go directly to the door on your right, without going up the stairs to the reception, and take the lift to the 2d floor.

We currently have the Pfizer BioNTech vaccine - available from age 12 - which is given in two doses ( from 3 to a maximum of 6 weeks apart) and the Johnson & Johnson vaccine - available from age 18 - which requires a single dose.
We would like to stress that you must respect your commitments: the date and time of the vaccination and the follow-up for the second dose.
*For children between 12 and 16 years of age, a parental authorisation to be carried on the day of the vaccination is required, click here to download it in French.