Pediatrics Department equipped with OnComfort virtual reality headset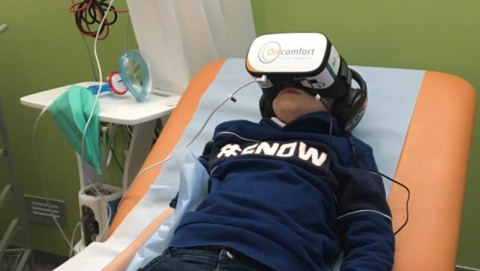 The Paediatrics Department of the Ste-Elisabeth site of the Europe Hospitals has been equipped with an OnComfort virtual reality headset. This headset helps to manage the anxiety and pain of our young patients through clinical hypnosis. 
From the very first time they used it, especially for blood tests, the nurses were amazed at the soothing and pain-relieving effect of the helmet on their little patients. "Normally, the patient and his parents are more stressed than we are," says a nurse on the ward. "Thanks to this tool, the child and his parents are less stressed, they are smiling and cooperating. This tool makes our work easier, faster and more efficient.  The care providers as well as the parents and children are very satisfied."
The Emergency Department at the St-Michel site, the Dialysis and Interventional Cardiology Department at the St-Elisabeth site and the Oncology Department at both sites are already equipped with virtual reality headsets.
The Europe Hospitals will now continue the deployment of OnComfort headsets in other departments.