The Europe Hospitals has been recognised as a Breast Clinic for over 20 years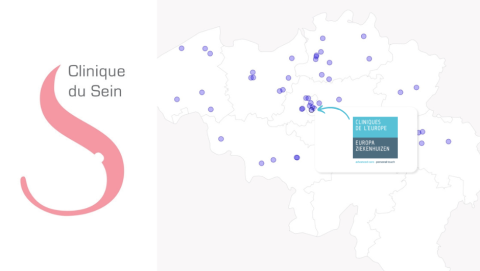 A recent report (KCE Reports 365 (2023)) by the Belgian Health Care Knowledge Centre shows that the risk of death in the first five years after diagnosis of breast cancer is about one third higher when the patient is treated in a non-accredited breast clinic.
An accredited breast clinic is a specialised department or care programme within the hospital dedicated to breast disease and meeting strict quality standards.
For more than 20 years, the Europe Hospitals has been providing high quality diagnosis and treatment to their breast cancer patients. The hospital is an accredited Breast Clinic on the St-Elisabeth site in Uccle. Patients from the St-Michel site are referred for treatment to this accredited Breast Clinic.
Accreditation means that the centre makes enough breast cancer diagnoses per year (at least 125) and can demonstrate sufficient expertise, which is crucial for breast cancer treatment outcomes.
At the Europe Hospitals, every breast cancer patient can count on a multidisciplinary team, personalised support and competent medical and paramedical supervision (breast nurse and psychologist).
Through this joint, daily commitment, we significantly increase the chances of recovery and survival, while ensuring a better quality of life after breast cancer. For example, our Breast Clinic has developed two integrated oncology rehabilitation programmes: EuroFit, which promotes fitness after oncology treatment, and EurHope Yoga Care, a yoga programme for oncology patients, supervised by the Physiotherapy Department, with the help of psychologists and dieticians.
CONTACT DETAILs
Breast Clinic – Europe Hospitals
02-614 27 30
https://www.cliniquesdeleurope.be/fr/clinique/clinique-du-sein
Medical coordinator: Dr VANDERLINDEN Sonia
Source map accredited centres: VRT Nieuws