Dr Ievgenia Pastushenko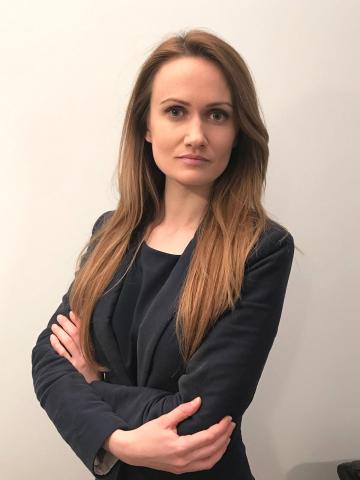 Dr Ievgenia Pastushenko has joined the Europe Hospitals on November 2019, where she gives consultations. She belongs to the Department of Dermatology and she is specialized in dermato-oncology and dermatologic surgery.
Dr Pastushenko graduated as Medical Doctor at the University of Zaragoza (Spain) in June 2009 and she was board certified in Dermatology by the Spanish Ministry of Health in May 2014. During her specialization, besides the clinical work, she obtained a Bachelor's Degree in Statistics and a Master Degree in Aesthetic Dermatology.
Besides her clinical carrier as Dermatologist, Dr. Pastushenko showed very early a strong interest in research. She performed her doctoral thesis at the University of Zaragoza in collaboration with Translation Cancer Research Unit, General Hospital Sint-Augustinus (Antwerp, Belgium). She defended her PhD in 2014, with International Mention, Cum Laude and Extraordinary Doctorate Award of the University of Zaragoza and she received the Award of the Royal Academy of Medicine for the Best Doctoral Dissertation of the Academic Year 2013-2014.
In 2015, Dr Pastushenko joined the laboratory of Prof. Cedric Blanpain (Universite Libre de Bruxelles, Brussels, Belgium), where she focused on understanding the mechanisms regulating tumor invasion and metastasis in skin cancer. Her work led to a publication in a prestigious scientific journal Nature, and was highlighted by a number of Belgian and international newspapers and TV channels.
Since 2018, Dr Pastushenko combines clinical work as Dermatologist and continues her research projects in the Laboratory of Prof. Cedric Blanpain.
You can book an appointment for a consultation on both sites at St-Elisabeth and St-Michel. Besides French, Ievgenia fluently speaks English, Russian, Ukrainian and Spanish languages.